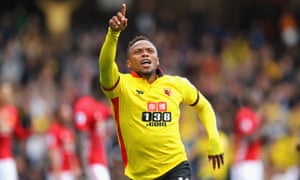 Manchester United, Jose Mourinho was inflicted a third successive defeat as late strikes from Camilo Zuniga and Troy Deeney earned Watford a thoroughly-deserved victory.
After defeats by Manchester City and Feyenoord in the previous eight days, United were put to the sword by the Hornets in the first half.
Meanwhile, Marcus Rashford, on his first Premier League start of the season, had equalised for United shortly, when he netted with an opportunistic strike in the 62 minute after excellent work from Zlatan Ibrahimovic. And there was a moment when it looked as though the visitors would go on to win the game.
But Colombian loanee Zúñiga made a stunning impact arriving as a sub, with a great strike only 53 seconds after replacing Capoue. Then Deeney scored an injury-time Panalty, after Marouane Fellani felled Zuniga to send Mourinho into crisis mode just weeks into his United reign.
With Leicester City, Liverpool and Chelsea coming up in their next four Premier League fixtures, life is unlikely to get any easier for Mourinho and his sluggish side.